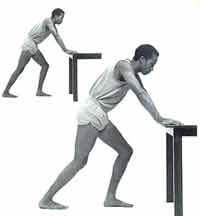 Overview

Heel spurs occur in at least half the people who have plantar fasciitis, a painful condition involving the thick tissue that runs between your heel bone and your toes. In the past, doctors often performed surgery to remove heel spurs, believing them to be the cause of the pain associated with plantar fasciitis. In treating plantar fasciitis now, doctors rely more on ice, arch supports, physical therapy and pain medications, and surgery is rarely performed.

Causes

Heel spurs are bony outgrowths positioned where the plantar fascia tissue attaches to the heel bone (the calcaneus). Heel spurs seldom cause pain. It is the inflamed tissue surrounding the spur that causes the pain. The Latin meaning of Plantar Fasciitis is, ?Inflammation of Plantar Fascia.? The plantar fascia is a long, thick and very tough band of tissue beneath your foot that provides arch support. It also connects your toes to your heel bone. Each time you take a step, the arch slightly flattens to absorb impact. This band of tissue is normally quite strong and flexible but unfortunately, circumstances such as undue stress, being overweight, getting older or having irregularities in your foot dynamics can lead to unnatural stretching and micro-tearing of the plantar fascia. This causes pain and swelling at the location where the plantar fascia attaches to the heel bone. As the fascia continually pulls at the heel bone, the constant irritation eventually creates a bony growth on the heel. This is called a heel spur.




Symptoms

Heel spurs result in a jabbing or aching sensation on or under the heel bone. The pain is often worst when you first arise in the morning and get to your feet. You may also experience pain when standing up after prolonged periods of sitting, such as work sessions at a desk or car rides. The discomfort may lessen after you spend several minutes walking, only to return later. Heel spurs can cause intermittent or chronic pain.

Diagnosis

Your doctor will review your medical history and examine your foot. X-rays are used to identify the location and size of the heel spur.

Non Surgical Treatment

Heel spurs are considered a self-limited condition, which means that by making small alterations in your lifestyle and regular routines you can often control the condition. The goal is to relieve pain, reduce friction and transfer pressure from your sensitive foot areas. By eliminating the cause of the heel spur and plantar fasciitis (i.e. better shoes, orthotics to fix your gait, losing weight) will help reduce the pressure put on your fascia and heel and can reduce the inflammation caused by your heel spur. Failure to see improvements after conservative treatments may make surgery your only option.

Surgical Treatment

When chronic heel pain fails to respond to conservative treatment, surgical treatment may be necessary. Heel surgery can provide relief of pain and restore mobility. The type of procedure used is based on examination and usually consists of releasing the excessive tightness of the plantar fascia, called a plantar fascia release. Depending on the presence of excess bony build up, the procedure may or may not include removal of heel spurs. Similar to other surgical interventions, there are various modifications and surgical enhancements regarding surgery of the heel.

Prevention

o help prevent heel and bone spurs, wear properly designed and fitted shoes or boots that provide sufficient room in the toe box so as not to compress the toes. They should also provide cushioning in appropriate areas to minimize the possibility of the irritation and inflammation that can lead to bone spurs in the feet. If needed, use inserts that provide arch support and a slight heel lift to help ensure that not too much stress is placed on the plantar fascia. This helps to reduce the possibility of inflammation and overstress. Wearing padded socks can also help by reducing trauma. Peer-reviewed, published studies have shown that wearing clinically-tested padded socks can help protect against injuries to the skin/soft tissue of the foot due to the effects of impact, pressure and shear forces. Also consider getting your gait analyzed by a foot health professional for appropriate orthotics. If you have heel pain, toe pain or top-of-the-foot pain, see your doctor or foot specialist to ensure that a spur has not developed.